30-Day Prescription Supply
Pharmacies across Canada recently were directed to provide prescription refills for a duration of 30 days only. The COVID-19 pandemic has created a surge in demand for medications and supplies not just for Canadians, but around the world. This measure is being enacted to protect the supply of pharmaceuticals for all Canadians.  The 30-day limit is a necessary measure to ensure protection of the drug supply.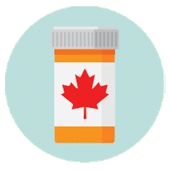 This is an important temporary measure to ensure ALL Canadians continue to have access to the medications they need.
Due to COVID-19, pharmacies need to carefully manage their medication inventories to protect against the risk of drug shortages.
We recognize that the 30-day supply will be difficult for some patients and that this may result in more visits to the pharmacy. We thank you for your patience and understanding during this 30-day supply measure.